Teacher Rose Gillespie, one of the primary organisers of the school's NAIDOC celebrations, works with students.
Students at St Canice's Primary in Katoomba have enjoyed a week of NAIDOC celebrations.
On November 9, Darug men Uncle Chris Tobin and Uncle Lex Dadd took the students through a variety of activities, including learning about Aboriginal tools, rope making, Darug song, ochre face painting and stories that promote community and belonging.
Students also took part in an art workshop run by Josh Sly from the Jarara Indigenous Education Unit to develop a piece of art on the lyrebird to be used as a symbol for the school's positive behaviour program.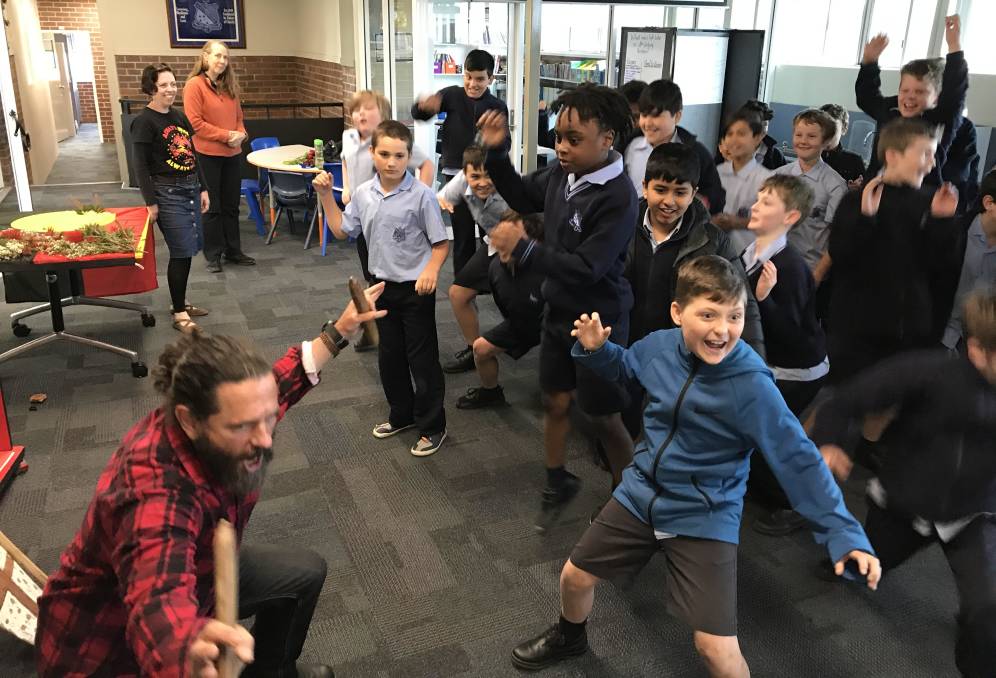 Cooper Darrington takes the lead in a dramatic dance with Uncle Chris Tobin
The school recently installed another flag pole to fly the Torres Strait Islander flag, as well as the Aboriginal flag, thanks to grants from Blue Mountains council and Macquarie MP Susan Templeman's office. The first raising of the new flags coincided with a smoking ceremony on November 9.
Classes have spent time understanding the symbols and meanings of the two flags along with completing some lessons from the picture book, Cooee Mittigar. A Story on Darug Songlines.
In music lessons, all students have learned a Darug language song The Kookaburra Song along with two songs that each represent the two flags. Joe Geia's 'Yil Lull' (meaning "sing" in Kuku Yalanji) acknowledges past grief as well as optimism for the future, and Mau Powers' My Island Home, which pays homage to the Torres Strait Islands and is an ode to the entire nation of Australia. Students from kindergarten to year two have also been learning Taba Naba, a hands on, fun activity that engages children with Torres Strait Island culture through the use of language, song and dance.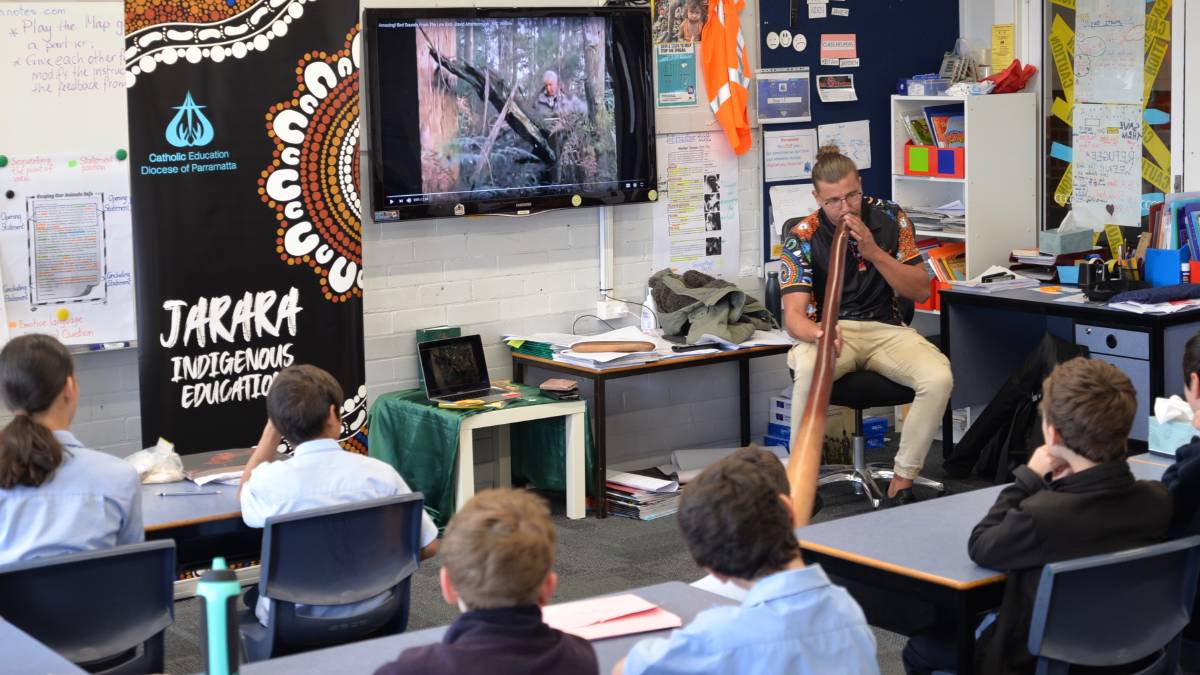 Aboriginal education worker Josh Sly from the Jarara Indigenous Education Unit at the Diocese of Parramatta, plays the didgeridoo for students
On Remembrance Day, St Canice's staff and students gathered for a reflection to honour all soldiers and to especially remember our nation's Indigenous soldiers and the struggles they faced during and after war service.
On November 12, St Canice's joined the live streaming Move it Mob Style dance across the diocese and also had a 'mini-covid-concert' where Aunty Carol Cooper was the guest of honour.
Aunty Carol, along with members of the local Indigenous community, asked St Canice's to accept the Three Sisters totem for the school.
"Aunty Carol has spent much time educating St Canice's students about the Dreaming Story of The Three Sisters as well as being a mentor for many of our students," said teacher Rose Gillespie.
Last year St Canice's unveiled a leadlight glass window, designed by local Darug artist Leanne Tobin, of the school's totem, The Three Sisters.
"Positioned at the end of a corridor, it is a daily reminder of our connection to, and our responsibility for country," Ms Gillespie said.
View and download all the photos from this event
---
Learn more about St Canice's Primary
Learn more about the Jarara Indigenous Education Unit