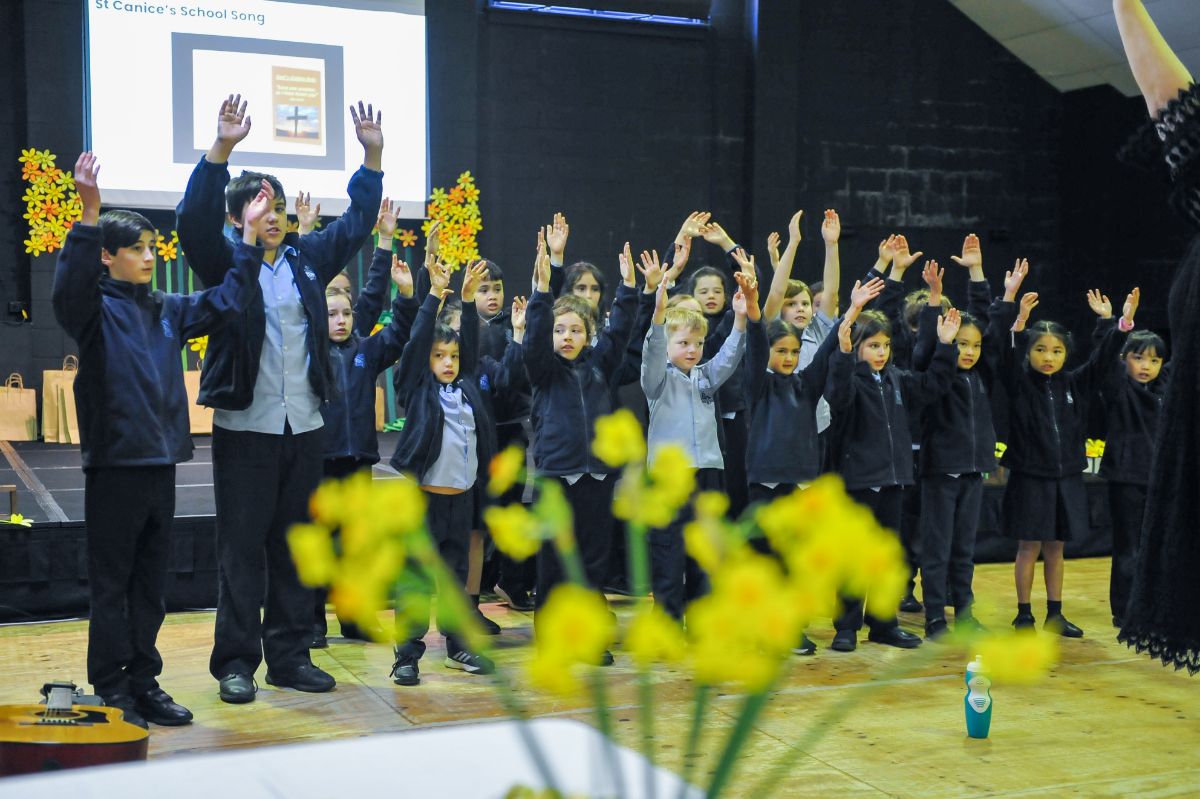 Guests for Australia's Biggest Morning Tea at St Canice's enjoyed a performance from the school choir.
The school community at St Canice's Primary Katoomba has rallied together to host Australia's Biggest Morning Tea in support of former Principal Mark Geerligs and others impacted by cancer.
Having missed so many opportunities to come together over the past year due to the COVID-19 pandemic, parents were thrilled to be back on school grounds and with the support of a multitude of local businesses, raised an impressive amount for Cancer Council Australia.
"It well and truly exceeded our expectations and was so overwhelming," said Principal Miriam Meaney of the huge amount of prizes donated for a special raffle that was held at the morning tea. "The generosity of local businesses was so wonderful. I keep on saying it, our school community is small but with a really big heart. I see it time and time again. People really dig deep."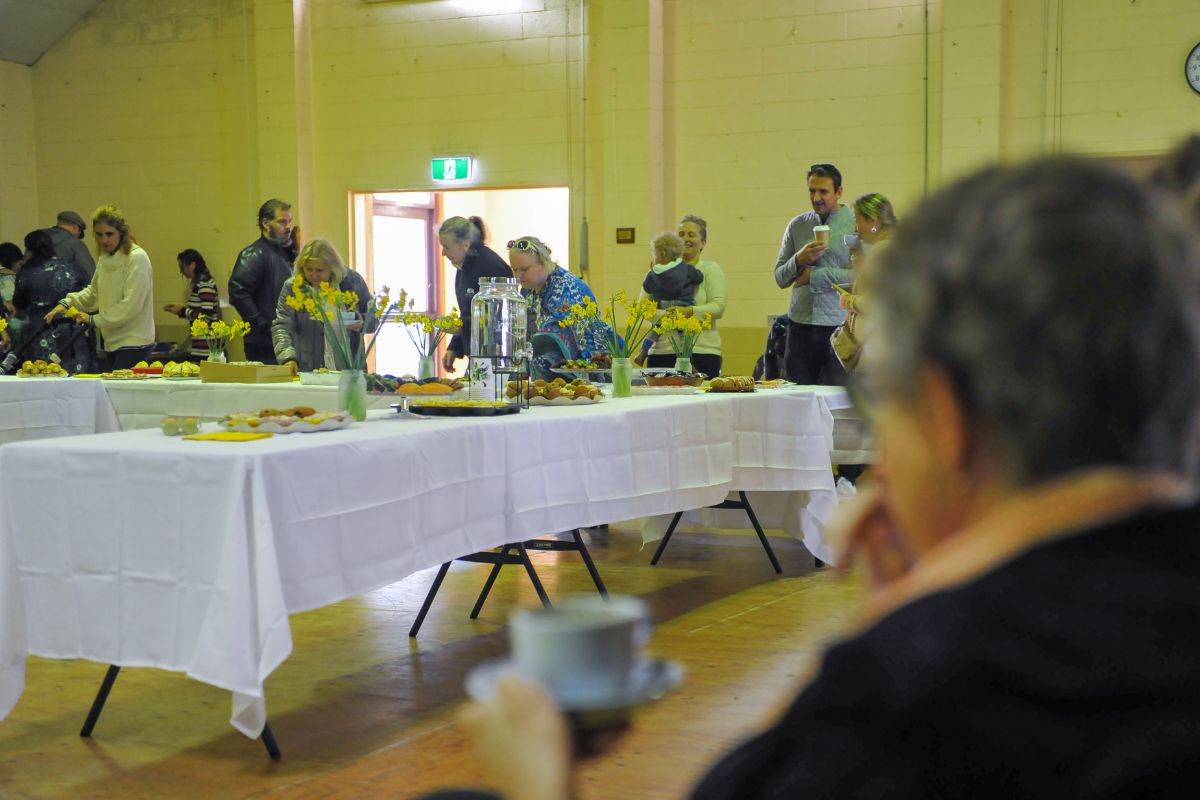 The morning tea was well attended with guests treated to a lovely array of food plus tea and coffee.
A big reason for the groundswell of support for the day was the plight of former Principal Mark Geerligs who retired in 2019 only to have his retirement impacted by the pandemic and then a cancer diagnosis late last year.
"He was more than just a boss or a colleague, he is a friend," said Clerical Administrator Emma Nispel who organised the morning tea. "He was so looking forward to his retirement. When he left, we were so excited for him. Then COVID hit which was so unfortunate. And then to have the cancer diagnosis was just heartbreaking."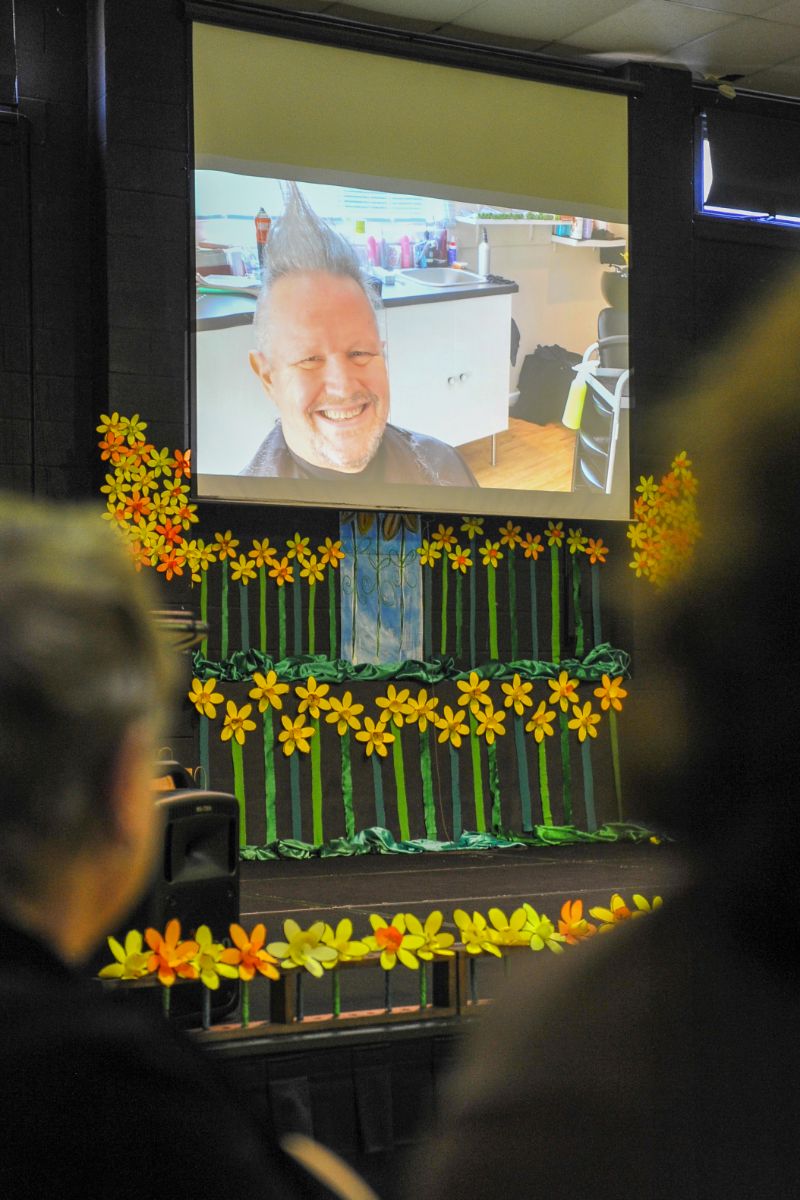 Mr Geerligs sent in a video message for guests showcasing his journey battling cancer.
The school community were thrilled by the news that Mark is responding well to treatment and hopeful of making a full recovery.
"For us, this initiative was very personal because Mark was our Principal when all our children first started," said parent Karissa Rana. "He's such a big part of this community so it really rocked everyone to hear he was ill."
"We also have a mother of a student who is at the tail end of breast cancer and it really feels like we're helping her as well, not to mention other people in our community dealing with cancer," added parent Natalia Tolhurst.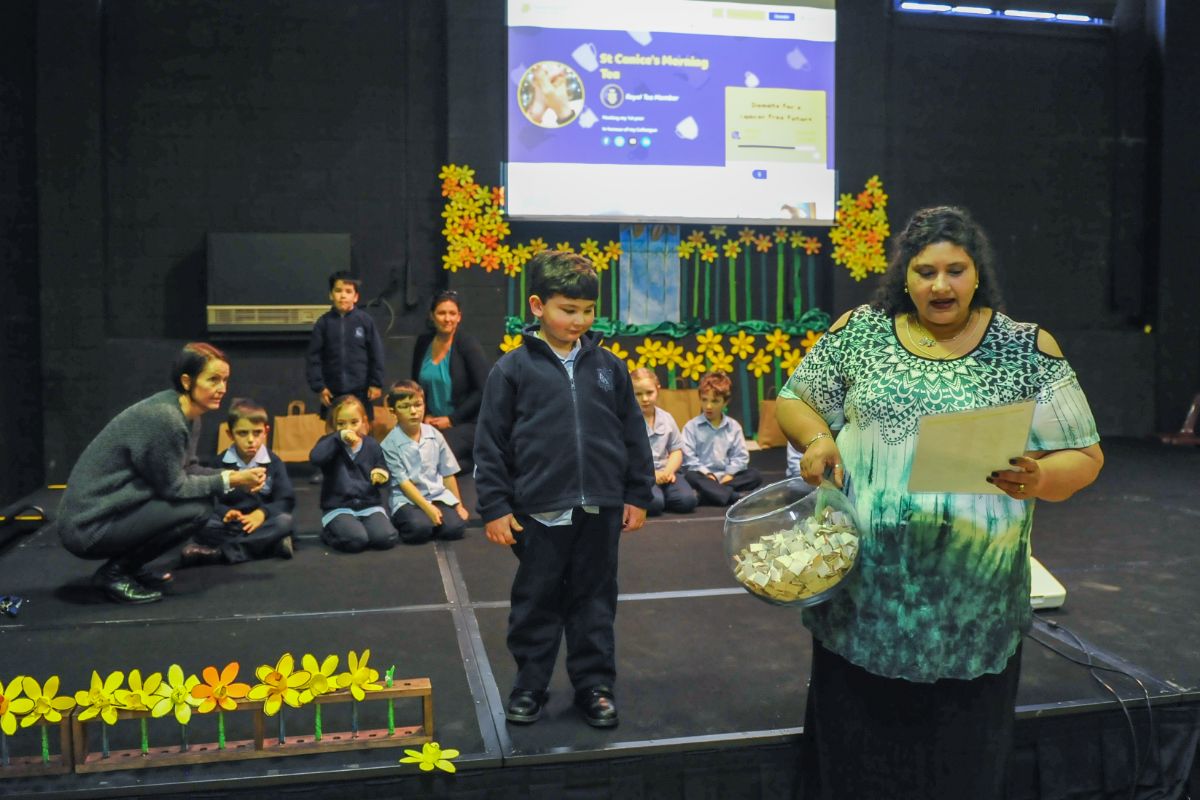 Parent Natalie Tolhurst helped secure many of the prizes and was on hand at the morning tea to raffle them off with the help of St Canice's students.
In all, just under 40 prizes were raffled off on the day, helping the school raise more than $2000, an impressive amount for the small school of just over 100 students.
"The support for this day was fantastic," said Natalie. "I'd show businesses a letter with the St Canice's letterhead and say we're only a tiny school but we can have a big impact in supporting a good cause like this. We have a multitude of religions and cultures and when we come together, we can achieve greatness."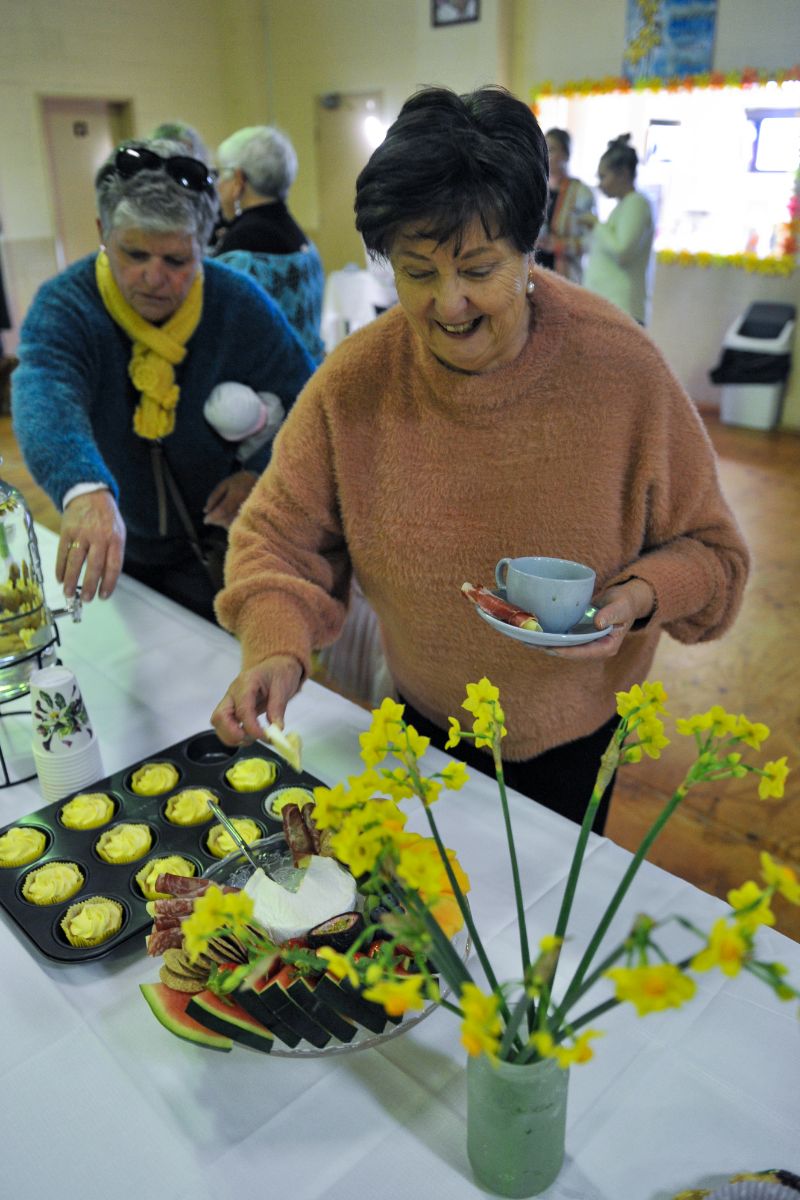 Parents, staff, former teachers and members of the community got to enjoy some delicious food at the morning tea.
Guests brought along an incredible array of foods for the morning tea as parents, former teachers and other members of the community enjoyed getting together in person - a pleasant change since restrictions were eased recently.
"We missed each other so much so it's been absolutely lovely to be allowed to be back together on school grounds again," said parent Rochelle Barnes.
The school was also keen for students to be involved as they decorated the school hall with over 100 paper daffodils, the symbol of Cancer Council. The St Canice's choir paid a visit for a special performance while other students came to assist the prize draw.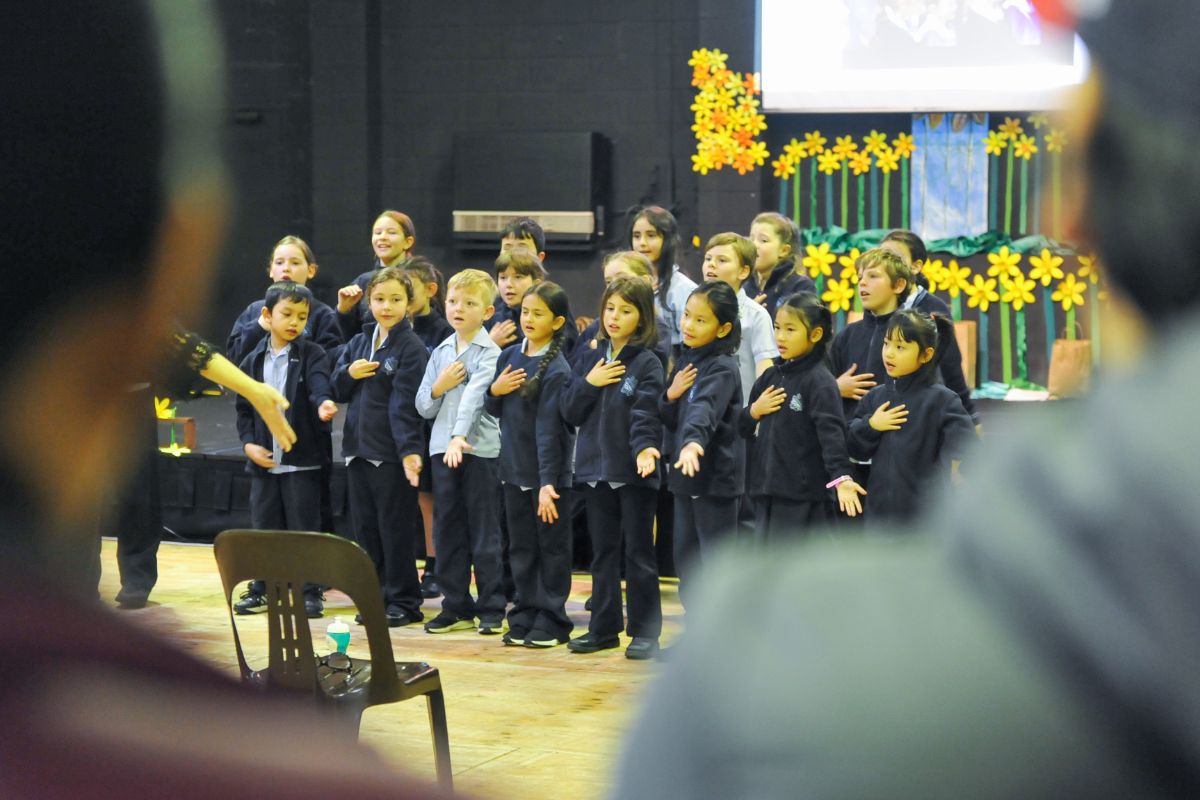 St Canice's students enjoyed getting involved in the Biggest Morning Tea.
"The students loved being a part of it," said Emma. "There was something quite emotional about hearing the kids sing, especially in the context of a big part of today being about Mr Geerligs' battle with cancer."
"It's very important that the children are involved because cancer is so prevalent in all communities," said former teacher Mary Hartnett. "It's good for the children to be involved and be aware of the support that exists and that they and their families aren't alone."
"St Canice's is such a special place, I worked here for 20 years," she added. "I was teaching here when sadly my husband was diagnosed with cancer. He bravely fought cancer for 15 months after his diagnosis. St Canice's is my family and the support they showed my husband and I as we were going through that period was so special.
---
View and Download all photos from this event