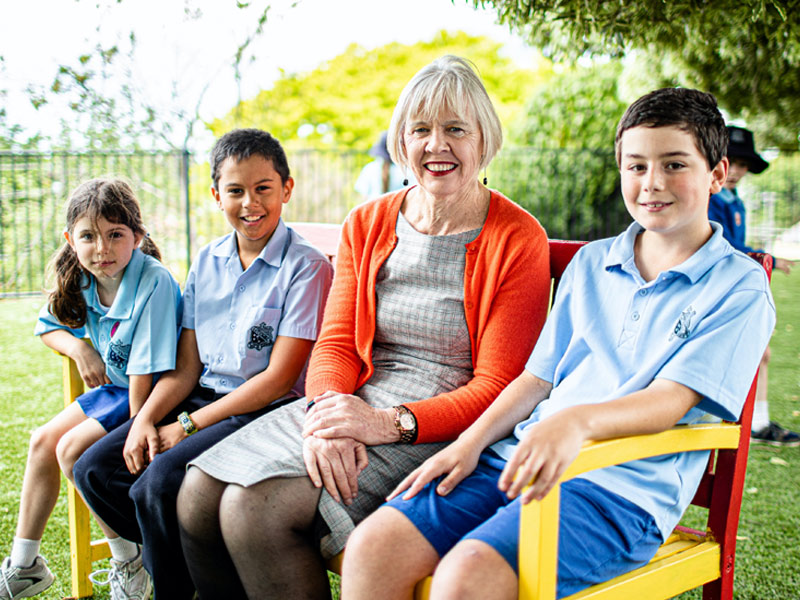 St Canice's Primary Katoomba Principal Miriam Meaney chats with some students
With orientation sessions on hold for many 2022 school starters, St Canice's Primary Katoomba Principal Miriam Meaney has some practical advice for parents and carers of the littlest learners in our local communities.
All parents of preschool-aged children are warmly welcomed to join Miriam and her team for special online Q&A sessions to be held on Tuesday, October 12 at 10am or Tuesday, October 26 at 1pm.
Miriam encourages any community member, whether their child is enrolled at St Canice's or not, to tune in and ask questions about supporting school starters.
She also has kind words for families who may be finding the prospect of school preparation daunting: "Praise your child at every opportunity and where encouragement is needed, help him or her to get over obstacles and get back on track".
"My little boy who's in Kindy had not done any type of childcare or preschool leading up to this year so it was a big deal for me," said St Canice's Kindy parent Wanita Selvarasa. "COVID was going on. They did everything they could to accommodate my nerves and his separation anxiety. It was actually so smooth, he settled in really quickly."
"On the weekends (before the current lockdown) he would say to me 'oh, don't I go to school today?' He loves it so much."
"It's a school where kids are made to feel comfortable, like they're at home," said parent Karissa Rana. "It's not clinical. It's a very inclusive school here with all variety of needs. The school does its best to cater for every student.
"It's such a warm environment and it's not just an environment for the children but for the parents as well.
"It helps lower the anxiety for students and parents coming to a new school, especially those with their first child going to school."
St Canice's will hold an online orientation event for students enrolled for 2022 in October.
The caring community has been keeping in touch with current families through virtual coffee and chat opportunities and is also hoping to be able to welcome school starters on-site at transition to school mornings in December if COVID-19 restrictions have eased sufficiently.
---