Winter Sleep Out
18 Jun 2014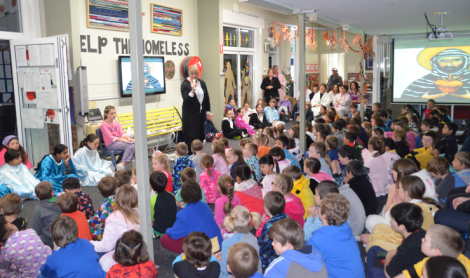 Last Friday evening 29 students and 9 staff shared a night and morning together to raise money for St Vincent de Paul, Katoomba.
The rest of the staff provided soup, chocolate milk, cereal, bread and cold milk for the sleep out participants.
It was a wonderful, spiritual and joy filled occasion. Our prayer and meditation helped us remember those less fortunate. The games (no electronic devices to be seen) were a time for young and old to share quality time.
It is through our actions that we can save our world.
It is through our giving, sharing and caring that can save our world. When John wrote about saving the world, I wonder if he imagined how God could influence young people enough to give up comfort for the betterment of others. Friday was a true outreach to others.
Thank you to everyone involved, it was a grace filled time for me.