Open Day 9 June 2022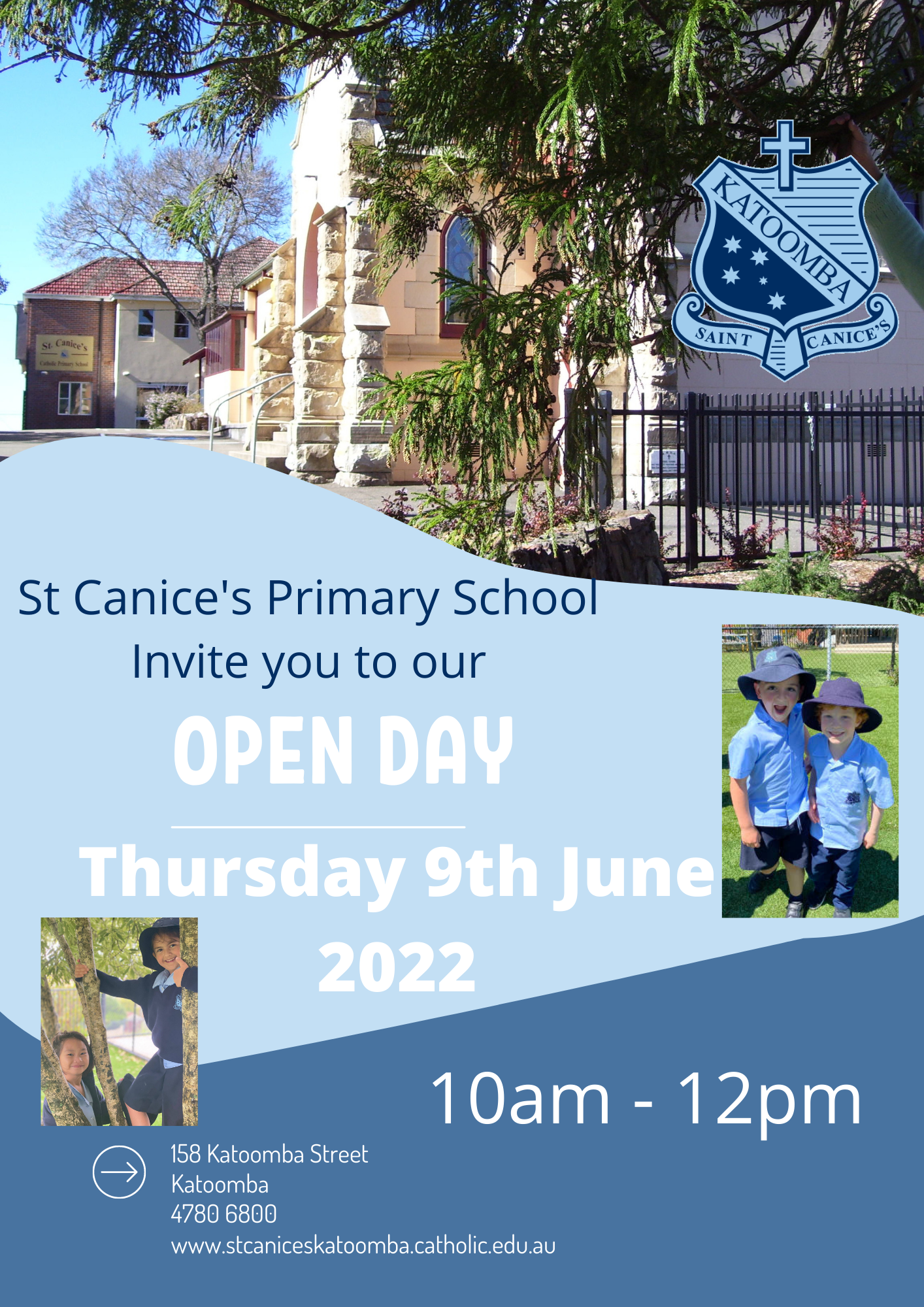 Posted: Tuesday, May 10, 2022
Change of Administration Office Hours
In our effort to reduce the number of staff on site, the school administration office will only be open between 9am and 11am as of tomorrow 20th July 2021 until further notice.
If you need to contact your child's teacher please do so by their direct email.
If you have any other queries please email the school email at stcanices@parra.catholic.edu.au this will be monitored during our normal office hours of 8:30am to 3:30pm.
Phone contact will only be available between 9am to 11am weekdays.
We appreciate your understanding at this difficult time.
Posted: Tuesday, August 3, 2021
Friday 11th June is a Staff Development Day - No students at school
Posted: Wednesday, June 9, 2021
Positive Behaviour Support for Learning Program
St Canice's will officially Launch our Positive Behaviour Support for Learning Program (PBS4L )on Friday the 4th of June, .
Our PBS4L is a whole school approach to supporting the learning and wellbeing needs of all our students.
Parents and Carers are invited to join us for the whole / part of the day.
Friday 4th June
PBS4L Launch Schedule
9am—9:30am Smoking Ceremony
9:30—10:15am Session 1
10:15am—10:35—Recess
10:40am—11:55am—Book presentation by local author Jodie Mcleod
12pm—12:40pm—Whole School Mass
12:40pm—1:10pm—BBQ Lunch
1:10pm—2pm—Session 2
2pm—2:50pm—Session
Posted: Wednesday, May 19, 2021
Australias Biggest Morning Tea at St Canices
The St Canice's Biggest Morning Tea Raffle Prizes continue to grow!
Tickets are $2 each or 3 for $5
If you would like to purchase a ticket, please send in correct money to the office and your ticket will be sent home with your child, or you can pop in to the office and purchase directly
(EFTPOS Unavailable).
The raffle prizes have all been kindly donated by organisations from around our Blue Mountains Community.
Prizes include:
2 course dinner in the Jamison View Restaurant at the @hotelmountainheritage
A variety of Gift Vouchers from Madame Lash Lift and Tint, Cattlefish, Blue Mountains Food Co-Op, Bras Kada Bras, Katoomba Music Store, Katoomba Work Gear, Megalong Books, Mitre 10, Sage Nails and Beauties, The Little Lost Bookshop, The Source Bulk Foods & Wilde Ivy
1 term training at Blue Mountains Kyokushin Karate
1 month supply of Coffee from On the Soul Side Cafe in Katoomba
2 Leura Golf Club vouchers @ $140 each
$150 Gift pack from Chris Wolfe Hair
$189 Dermatonics Gift Pack
A variety of DIY kits from Bunnings, including a raised garden bed, hanging planters, ceramic kit and mosaic kits.
Raffle will be drawn at our event on Wednesday 26th May.
Donations can also be made through our fundraising page
Posted: Wednesday, May 19, 2021