Going Deeper at Principals Masterclass
10 Sep 2014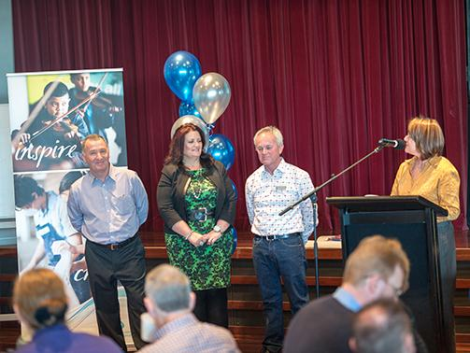 Catholic Education Diocese of Parramatta Principals Masterclass 2014
The annual Principal's Masterclass was held on 13 and 14 August at the Rooty Hill RSL Club, giving school leaders a valuable opportunity to come together to share ideas and participate in professional learning.
Executive Director of Schools, Greg Whitby says the Principals Masterclass is our primary professional learning for principals each year.
'The value of the Masterclass is that it brings together good theory, good educational practice and reflection on learning,' said Greg. 'Built into the Masterclass is a sharing of expertise and the collaboration that demonstrates how you can build capacity at every level of the school community.'
Throughout the Masterclass, school leaders attended presentations from three speakers who shared their personal stories of building capacity, leadership and empowering staff.
Pina Hutcheson, Principal of Padbury Catholic Primary School travelled from Western Australia to share her experience of building a professional learning community across by joining with two other local schools nearby.
Pina said this initiative has led to a culture of capacity building where teachers learn from one another.
'We have experienced a significant turnaround in staff engagement and learning from a starting point where teachers were working in isolation and there was little collaboration,' said Pina.
'The Opening Doors program enabled three principals coming together to share data, discuss what was needed to move forward and needed to be implemented at our own schools.'
'Within each school, a consultation process began where we asked teachers about their concerns and addressed them by putting structures and resources in place.'
'As a result, staff are very engaged and collaborating both formally and informally to share their practice,' said Pina. 'This outcome is reflected in the Quality Catholic Schooling (QCS) survey that showed our school's staff engagement and learning rating to be three times the system average.'
Brad Campbell, Principal of Emmaus Catholic College Kemps Creek has over 30 years experience across three dioceses. Brad shared the knowledge he gleaned from a variety of middle management and executive positions spanning administration, pastoral care and curriculum.
Brad echoed the words of St Mary of the Cross MacKillop, explaining that what differentiates a teacher as a future leader is the ability to never see a need without doing something about.
'In order to foster the development of new leaders for the future, we need to tell our teachers if see their potential,' Brad said.
Using excerpts from Pope Francis' Evangelii Gaudium and clips from popular films, Brad demonstrated the importance of recognising different leadership styles and highlighted that leadership needs to be flexible and adapt to the environment.
Brad shared his model for lifelong education, the result of his doctoral studies in education focusing on the interrelationship between leadership, learning and student engagement.
Brad also shared his process for building staff and student engagement since commencing as Principal at Emmaus Catholic College in January.
'The change management process was a collaborative one, where everyone was asked to consider the qualities that the 'ideal Emmaus graduate' should have,' said Brad. 'We have already seen a significant positive change in our students and we're excited about continuing this work in future.'
Using the artwork of Dutch artist Escher and the inspiration of St Francis of Assisi, Kevin Mills, principal of St Margaret Mary's Primary, Merrylands spoke of the need for school leaders to see the importance of connections in all the relationships within the school community.
'A school leader's goal is to know yourself, know your students, know their parents,' said Kevin. 'It is also essential to draw upon leadership thinking outside the education world.'
Kevin spoke movingly of how much he has learned since he first became a principal.
'I had to learn the difference between good management and good leadership,' said Kevin.' I needed to listen with my ears, my mind and my heart.'
'Another important part of my learning was to encourage 'professional conflict' among my staff,' he said. 'I knew I needed others who didn't think the same way as I did to ensure innovative and robust thinking.'
Kevin spoke, too, of modelling his personal faith as a Catholic leader.
'When I first started teaching in Catholic education I just wanted a job. I was inspired to deepen and acknowledge the importance of our faith by other teachers and leaders,' he said. 'Now my faith is obvious and integral within my work and I personally arrange the sacred space in our staff room each week.'
Throughout the Masterclass, principals and senior leaders were able to present something they had learned in 10 minute sharing sessions.
Liz Ricketts, principal of St Aidan's Primary, Rooty Hill found these sessions particularly valuable.
'Even after many years as a principal I know there is always something to learn,' said Liz. 'Sometimes you take for granted the day-to-day things you do, but for others this can be very inspirational. The Masterclass has allowed us to share these ideas with our colleagues and to learn from the experiences of each other.'
On Wednesday evening, school leaders came together at Loyola Senior High School for Mass followed by a dinner and farewell for principals finishing in their roles. Loyola Senior High School, Mount Druitt principal, Robert Laidler, who will finish at the end of 2014 and Marian Catholic College, Kenthurst principal, Lynn Bard, were recognised for their dedication and commitment to Catholic education. St Margaret Marys Primary, Merrylands principal, Carmel Agius, Catherine McAuley Westmead principal, Margery Jackman and Our Lady of Lourdes Primary, Baulkham Hills principal, Helen Kingsley, were also honoured but weren't able to attend.