Sisters of Charity Celebration
06 May 2014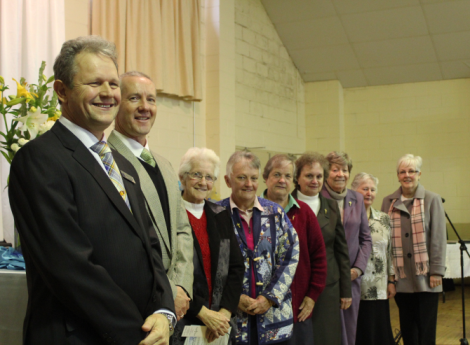 Left to right: Mr Mark Geerligs, Mr Paul Devlin, Sr Josephine Hodges, Sr Colleen Mills, Sr Colleen Holohan, Sr Margaret Fitzgerald, Sr Virginia Wilkinson, Sr Edith King and Ms Barbara Smith.
On Saturday 3rd May, the St Canices Parish and School community had the opportunity to join the Sisters of Charity in a moving liturgy to celebrate the 175th Anniversary of their work in Australia.
It was a wonderful celebration of history, tradition and mission. The Sisters along with former Principals, staff, students, parents, clergy, fellow Sisters and friends gathered at St Canices Katoomba to give thanks and reflect on the many years of dedicated service given by the Sisters of Charity in the Upper Blue Mountains.
A delightful afternoon tea followed in which people enjoyed meeting each other and looking at the various photos and memorabilia. The organisers of the celebration, Sister Colleen and Sister Mary, were thrilled by the positive support from so many people. They also wish to thank all those involved, especially those who travelled long distances to attend the Thanksgiving Liturgy.
There is no doubt that the inspirational vision of foundress, Mary Aikenhead, will continue to impel the Sisters and others to follow in their footsteps to help the poor and disadvantaged for many years to come throughout Australia.