Indigenous meeting event
16 Nov 2023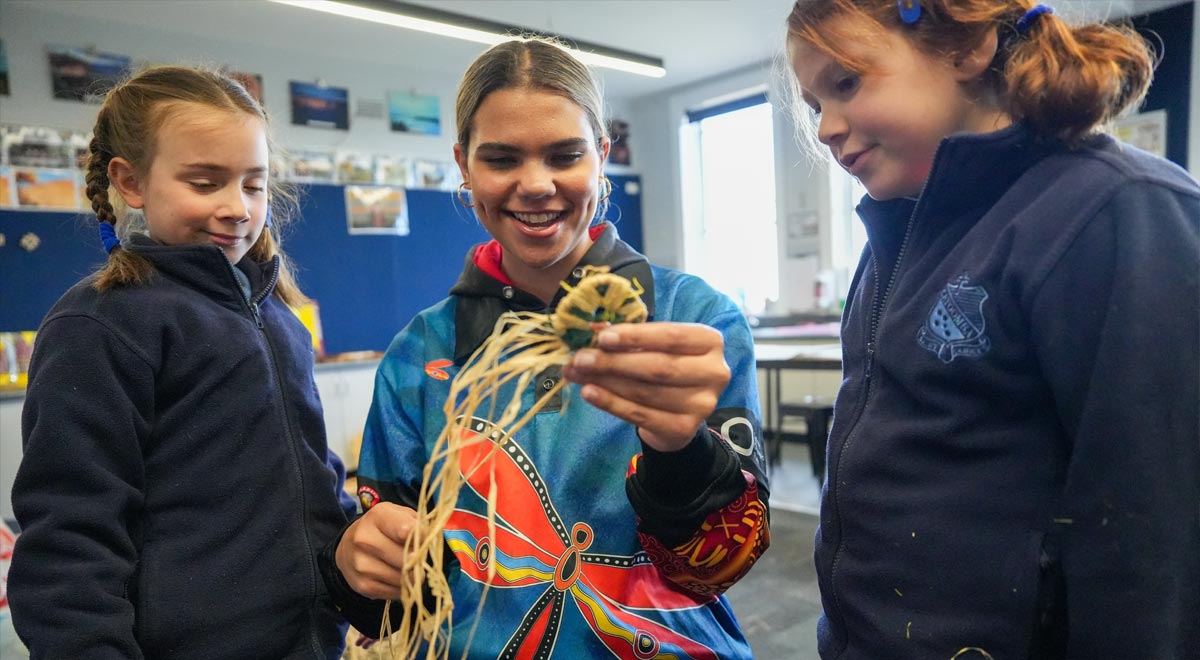 Continuing to develop their Indigenous learning program, St Canice's Primary Katoomba will be holding a meet and greet event for Aboriginal and Torres Strait Islander families from Katoomba and surrounds.
The school, which is holding the day on November 20, is proud of its connections with the local Aboriginal and Torres Strait Islander community including local Elders Aunty Carol Cooper OAM and Uncle Chris Tobin.
Families will be able to enjoy a cuppa, a yarn and enjoy a tour of the school along with meeting the Principal, Aunty Carol and staff, including diversity teacher Rosemary Gillespie, who brings to the school years of experience working with Indigenous communities.
"I regularly consult with Uncle Chris and Aunty Alexa Watanabe, Kindergarten, with Aunty Carol about the work that we've been doing," said Ms Gillespie.
"Their hopes are that children have an appreciation and an understanding of the environment, the Blue Mountains and themselves as global citizens so they can make informed choices about their role in the world as custodians, because we're all custodians of this land."
Ms Gillespie, who spent seven years living and working in Arnhem Land, the Kimberley region, Broome, the Torres Strait Islands and remote parts of the Cape York Peninsula, will take up a new role as the school's Indigenous education teacher in 2024.
Under the guidance of Catholic Schools Parramatta Diocese's Jarara Cultural Centre, St Canice's recently completed the first term of a new Sky Country Dreaming Indigenous education program.
"This is about developing understanding and respect among our children for our Aboriginal people, their knowledge and skills, and how they have created and cared for our land," Principal Miriam Meaney said.
The school hosts regular cultural events for NAIDOC Week, Sorry Day, National Recognition Week, as well as Three Sisters Immersion Day and cultural talks and presentations from local Elders.
"St Canice's is the place to be for our Indigenous families. It is a school that has invested so much in developing a culture of understanding about our Indigenous culture and history," said Ms Meaney.
"It is a school that will say Yes to Indigenous families who want to enrol their children and will ensure they can get an excellent education without parents having to worry about the cost."
Learn more about the Jarara program
FACEBOOK
01 Dec 2023

Thank you Mr Dane! Kinder have had Mr Dane finishing his pre service teacher training with us for the last 4 weeks. We surprised him with a card and cake to say thank you, good luck and good bye 👋

01 Dec 2023

Look out Santa! You've got mail! Kinder have been very busy writing you some very polite letters (with just a few present requests) and we walked over to the post office to post them today. We are sure he will love our beautifully crafted letters complete with excellent spelling and lovely neat handwriting!