St Canice's students win a special visit from the 'Bear Cat'
24 Mar 2014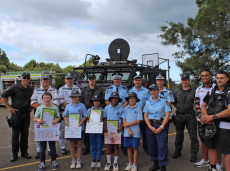 Winning students from St Canice's Primary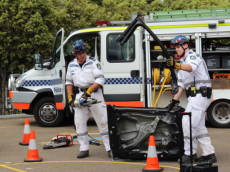 Senior Constable Jayne and Constable Graham demonstrated rescue equipment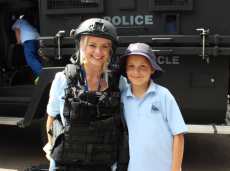 Teachers and students tried out tactical operations equipment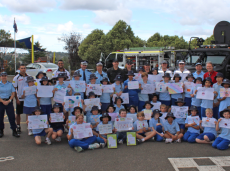 Participating students with their posters
Students from St Canice's Primary, Katoomba have been recognised for their support of the anti-bullying message with a special visit from the NSW Police on 21 March.
St Canice's was selected as the winning school for the Year 6 poster competition organised by the Blue Mountains Police in support of the National Day Against Bullying and Violence.
The NSW Police Tactical Operations and Special Rescue teams visited St Canice's giving students the opportunity to talk to the Police officers, tour the vehicles and see demonstrations of rescue equipment
Senior constable Chris Jayne used the 'jaws of life' to cut a car door in half. Students were delighted to tour the Bear Cat tactical operations vehicle using the manhole, ] flashing lights and sirens.
Youth Liaison Officer for the Blue Mountains local area command, Senior Constable Michelle Jancso, thanked students from St Canice's for supporting the initiative.
'All of the entries were outstanding and it is great to see that students are promoting a bully-free culture,' said Michelle.
The winning entry was designed by Year 6 student Alan Chalbhagam-Raphel and features a strong message about the nature of bullying and the ways it can be addressed.
St Canice's Principal Mark Geerligs said the school community strives to provide an environment where children feel happy, nurtured and are engaged in their learning.
'We focus on building respect, both for others and ourselves which is important for building relationships,' said Mark. 'By saying "no way to bullying" we are encouraging respect every day.'
The National Day of Action against Bullying and Violence is an annual event in which students all over the country are encouraged to 'take a stand together' against bullying and violence.